Sahana – the Artiste
Born into a family with a rich musical heritage, Sahana's ability to display her musical dexterity at the tender age of four, urged the world to accept her as a child prodigy. Sahana is a distinguished performer hailing from the Rampur Senia Gharana, a lineage tracing back to Mian Tansen. Today, she is reckoned amongst the front-ranking, iconic Sitarists of India. Her dedication and hard work have led to her wielding an exceptional command over technicalities, alongside an authentic approach towards her presentations. Additionally, her spiritual inclination inspires her to constantly seek philosophical traits in her music, leaving a strong impact on her audiences across the globe.
Sahana – the Disciple
Sahana was initiated into vocal music by her illustrious mother Mrs. Chhabi Banerjee, daughter of Sangeetacharya Kashinath Chattopadhyay of Rampur Sahaswan Gharana. At the tender age of four, she tried her hands at playing the 'Sitar' under the able guidance of her father Pandit Santhosh Banerjee. He was himself a celebrated Sitar and Surbahar maestro, having trained under 'Veenkar' and 'Dhrupadiya' Ustad Md. Dabir Khan of the Rampur Senia Gharana. Her growing years saw her training for both, vocal as well as the Sitar, but soon her inclination for the Sitar grew stronger, making it her professional choice.
One of the essential teachings Sahana received from the very start was, 'Value your Tradition'. This has stayed with her all through, resulting in the rich 'Gharanadaar' (pure and authentic) style of Indian classical music, which she exhibits during both, her playing as well as her tutoring sessions. Having imbibed a blend of Dhrupad Ang Baaj and Khayal Gayaki styles from her parents, Sahana has gone on to create her own unique confluence.
Sahana – the Performer
This impeccable musical inheritance, with a sprinkling of her own aesthetic blends of Gayaki, add yet another dimension to her renditions. Sahana's presentations depict a seamless merging of soulful and skilful aspects. With a perfect blend of aggression and mellowness, her music is laden with emotions, and is yet bold and dynamic. The intrinsic beauty of every rendition in her repertoire is highlighted during her presentations.
Sahana – the Teacher
Sahana conducts both, online as well as offline classes. She has a number of students from across the globe, with whom she interacts either in groups or via private classes. Sahana has been training and guiding students of music over past 10 years, which includes aspirants from various parts of India and also from Germany, France, Australia, UK and USA.
Sahana conducts regular workshops and lecture-demonstrations, where she emphasizes on the correct techniques of Riyaz, and its various applications, which involve presentation, detailed raga analysis, its structure and other finer nuances. She provides a thorough guideline for a performance, and readies her students to confidently face an audience. Under Sahana's care, dedication and skilful teaching, some of her students are already performing for an audience, while others are showing great promise. Her style encourages her students to incorporate music in their daily lives, while they 'feel' the music, rather than learning through memory.
Sahana is an 'A' Grade artiste empanelled with both AIR and Doordarshan. She has extensively toured various parts of India under the aegis of SPIC MACAY, and contributed to the organisation's mission to inspire youth and inculcate in them a thirst for India's rich heritage.
Sahana – the Experimental Artiste
Inspired by her musical genius, Sahana has participated in number of experimental projects in India and Europe.
Sahana has performed at many occidental music festivals, playing alongside the famous Italian flutist Massimo Mercelli. She has also participated in a unique project D'UNE RIVE A'L'UTRE, where Sahana has played with a celebrated Pianist, presenting the theme "FRANZ SCHUBERT meets Indian Classical Music." This programme was organized by NATIONAL RADIO FRANCE in the famous museum PETIT PALAIS in PARIS. The success of this concert led to another invitation from NATIONAL RADIO VENICE, and a concert was held at the prestigious venue - Fenice, in Marcopolo.
Back home in India, she has formed 'Mohini' – an exclusive all-women musicians' group. Their renditions include classical and semi-classical compositions, creating bliss while projecting the powerful aura of Indian classical music.
Sahana – Recipient of Accolades
Sahana has been the recipient of the prestigious national award - the Ustad Bismillah Khan Yuva award (2013-14) instituted by Sangeet Natak academy, (Govt of India) in the field of Sitar. In 1990, Sahana had won the Pt. Nikhil Banerjee Challenge trophy and received best Instrumentalist award, at the Talent Search contest, held by the Dover Lane Music conference, Kolkatta.
Sahana has had the honour of being interviewed by Radio Suisse Romande (RSR) in Lausanne, during her musical tour in Switzerland. She has also appeared in an interview on Hessen TV in Frankfurt, Germany.
Sahana – a global musical artiste
Sahana has had the privilege of performing at prestigious music festivals not only in India, but also across the globe. (list)
Sahana – Artiste with a rich Musical Lineage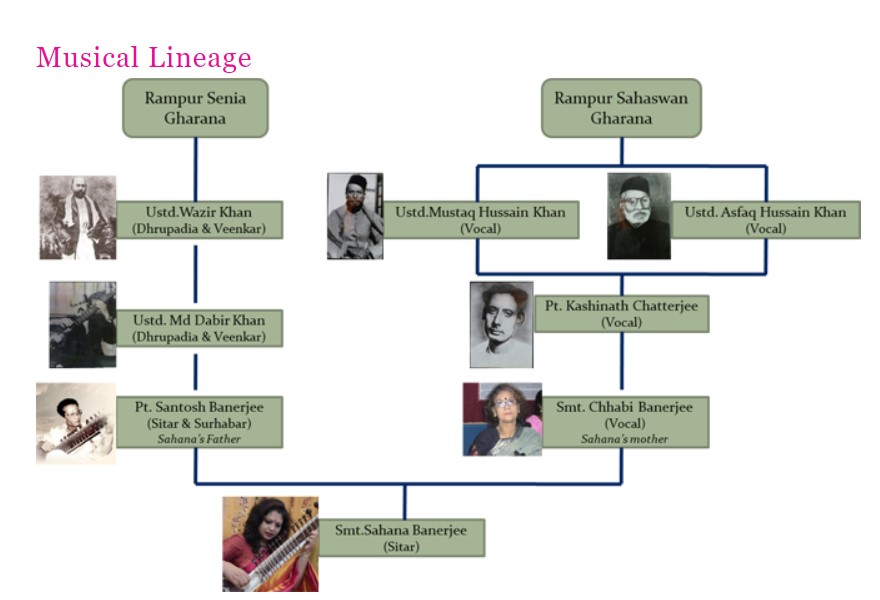 Sahana – the Torchbearer
'Making a difference', 'going beyond', are some of the attributes of 'Swarasudha', an entity established by Sahana. Unlike other organisations promoting music, Swarasudha has an idealistic agenda towards society, vis-à-vis propagating music and creating awareness amongst the youth, and that section of people who have not been initiated into appreciation of music as an art form. Through 'Swarasudha', Sahana puts in great efforts to generate a curiosity amongst people towards the myriad benefits of learning Indian classical music. Going a step further, she encourages and welcomes youngsters who have committed themselves to this art form.
Young upcoming artistes are invited to perform at Swarasudha baithaks, while senior artistes share their knowledge and experience through interviews and lecture-demonstration sessions. Swarasudha has had the privilege of inviting eminent artistes such as Pt. Nayan Ghosh ji, Padmashree Shekhar Sen ji, Pt. Vikas Kashalkar, and others, for interview sessions where the audience also had an opportunity to interact with them, and gain from their wisdom. These sessions become so engaging that neither the artiste nor the audience realises the passage of time, sometimes stretching to even 3 hours or more.
Thus Swarasudha Baithaks are not just performance platforms for young artistes gaining an appreciative audience, but also a space where the listeners get an opportunity to gain insights, thanks to the post-concert interactive sessions.
As an extension of these Baithaks, Swarasudha also conducts free lec-dem sessions on Indian classical Music, at different schools. Through these sessions, music is taken to young students, helping them develop an appreciative ear for this rich heritage.
'Swarasudha Baithak' is an effort which is aimed for "Music for the sake of music" and is yet not under the umbrella of any sponsorship or big banner, but promises to deliver an intellectual & musical upliftment among musically dedicated listeners. Sahana hopes more music lovers come forward to support this noble cause, in upholding the rich cultural tradition of India. Offers for Corporates (soulful / therapy music)